So, this community hasn't really kicked off. I was surprised to see someone from the States watching this community, though! Hello to you,
cieldumort =)

The unfortunate thing is, when we DO get tornadoes they are rarely documented and reported. Plus, they occur in VERY sparsely populated areas. And, if they ARE by chance sighted and reported, the media lovingly calls them "mini-tornadoes" which makes this girl VERY angry about XD!

In fact, the last tornado that seems to have been documented was one that struck near Port Kembla, NSW on the 11th of Feb, 2007. And it wasn't even a tornado - it was a waterspout.

The photos under the cut were taken by Neil Cox from this link.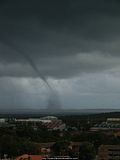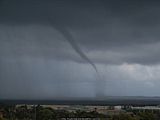 I'm rather fond of the picture under the next cut, since it was a tornado that touched down in South Australia, which is the state I live in. It touched down near Tarlee, SA on the 21st of July, 1995.




So there you have it. My update for the month! We could quite POSSIBLY get some tornadoes this coming Spring. I watched something on A Current Affair recently about some avid Australian storm-chasers who LOVE tornadoes possibly more than I do (haha) who return to the U.S each year to chase tornadoes. They predict we're going to see some intense severe storms in the Spring/Summer.

-Jess

P.S. I need a tornado icon.